Welcome to Bloomingdale Golf Club!

UPDATE: May 27th, 2020   
GREAT NEWS!!  Beginning Friday, May 29th a handful of restrictions will be relaxed!!  Below are the changes we are all looking forward to:
*Foursomes will be allowed
*Motorized Carts will be allowed – Single Riders only unless golfers live in the same household
*NOTE: Cart Availability – Due to the single rider cart restriction, we cannot guarantee the use of a golf cart after 2 pm on the weekends.  Availability will be based on volume of play earlier in the day.  Please read notifications prior to booking a tee time on-line.  
*Putting Greens and Practice range OPEN with limited capacity
*Minimum Food and Beverage service for carryout will be available
*To view the updated guidelines from the Governor's office click "HERE"
                                  For Rates CLICK "HERE" 
     THE HEALTH and WELL-BEING of our golf patrons and employees will continue to be our  #1 priority as we continue to get through this COVID-19 pandemic.  Please continue to be safe!
       CURBSIDE MEAL PICK-UP  CONTINUES AT  THE GOLF COURSE WITH EXPANDED MEAL CHOICES! 
Thank you to all who have supported our curbside meal service during the past month.  We will be continuing the service on Wednesdays and Fridays for the near future.  We have expanded our meal selections!  Please see below.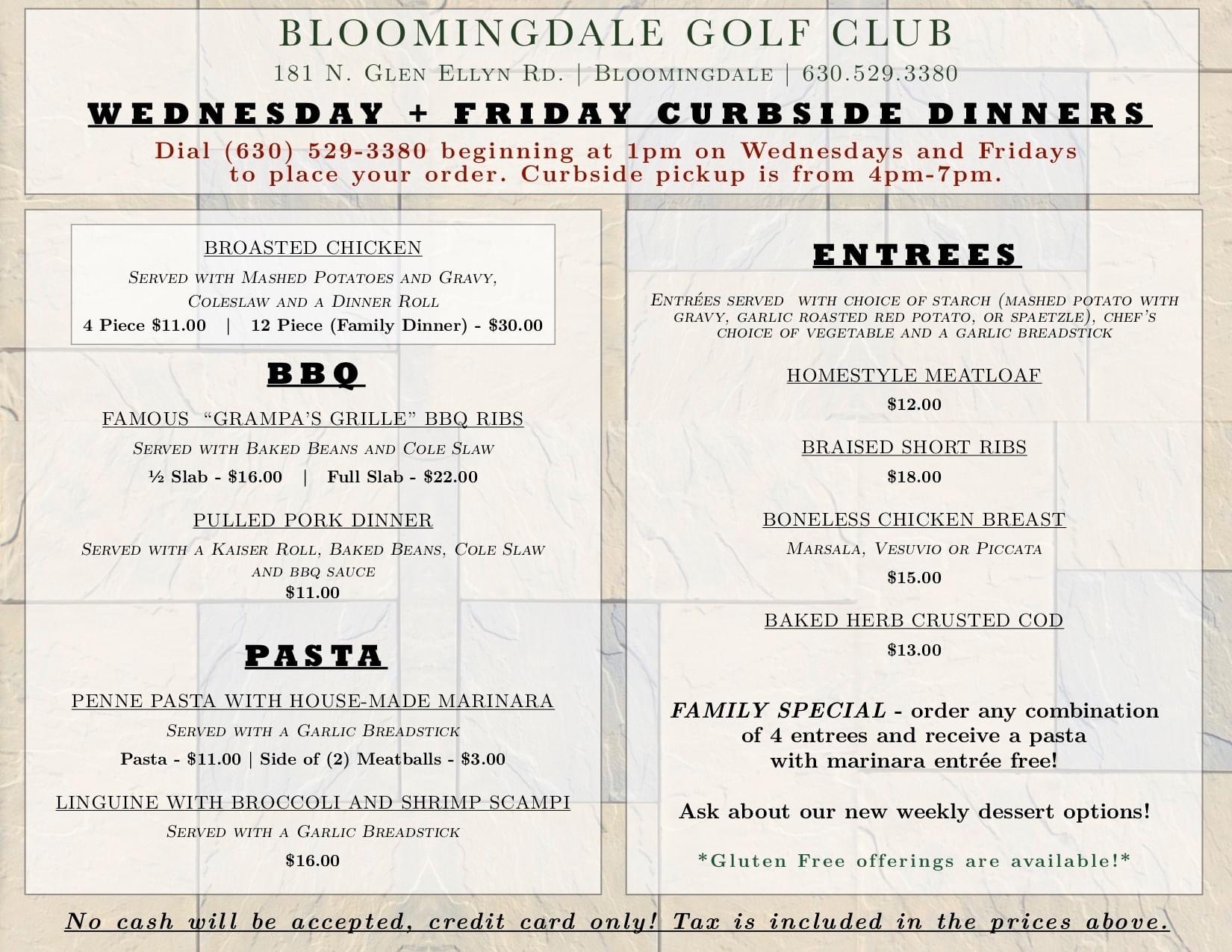 For a print out of this menu please click HERE                 
We will begin taking orders at 1 pm.  CALL 630-529-3380 TO PLACE YOUR ORDER.   PICK UP IS IN FRONT OF THE CLUB HOUSE!
Community Card Reminder for 2020
As a reminder, if you reside in Bloomingdale, Roselle,  Medinah and Itasca don't forget to register in our Community Card Program.  By doing so, you receive a nice discount on your green fees.
This year, Thursday is designated as our MATS ONLY day for the range.  Weather and turf conditions will dictate if mats will be used on other dates.  Please call if you want to confirm we will be hitting of the grass.
Bloomingdale Golf Club was once the site of Glendale Golf Course. Opened in 1924, the original course designer, Tom Bendelow, was also an integral participant in the design of Medinah Country Club. When the village of Bloomingdale purchased the 72 year old Glendale Golf Course in 1996, a commitment was made to create a challenging course with outstanding amenities within a country club setting. In the fall of 1998, the village brought on the golf course architecture firm, Lohmann Golf Design to handle this task. If you enjoy challenging greens and a not too overbearing of a course, you have come to the right place. Bloomingdale Golf Club offers an enjoyable challenge for golfers of all levels.
Bloomingdale Golf Club offers a beautiful oasis for any special occasion. Accommodating over 200 guests, our large banquet room can also be subdivided into three separate spaces, giving you flexibility you won't find anywhere else. The banquet room features large windows and an outdoor veranda overlooking our lush, impeccably maintained golf course—teeing up an outdoor cocktail reception with sweeping views. Bloomingdale Golf Club is an elegant venue to host a wedding, social event, corporate event or meeting, or golf outing. All food for your special event is freshly and expertly prepared on site, and our dedicated, attentive staff makes every detail a delight.
Course Drone Aerial
The Golf Scene