2023 – WEDNESDAY  and THURSDAY are DESIGNATED "MAT ONLY" DAY!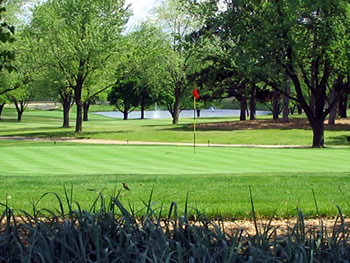 Come see what you have been missing! The practice facility has been a wonderful addition to the already beautiful Bloomingdale Golf Club. As we say, "practice makes perfect", and where else can you go to fine-tune your golf game. Whether it's the short game or hitting that long, straight tee shot, we offer the perfect place to work out the kinks!
The practice range has the flexibility to be used from grass or mats. With a length of 290 yards from the back tee area, target greens are located at various yardages to allow golfers to practice their distance and accuracy. Depending on tee location, the practice range can accommodate 12-14 golfers comfortably at any one-time.
Additionally, we offer a 3200 square-foot putting/chipping green and sand bunker located adjacent to the hitting area.
The practice range opens 15 minutes before the first tee time and closes 45 minutes before sunset. For maintenance, we will be closing the range on Monday's from 11am to 1:30pm and Friday's from 12pm to 1:30pm. During these times, we will be cutting the practice area.  Please note that these times and days could vary due to weather conditions and/or a change of our course superintendent's work schedule.
When utilizing the practice range, there will be a choice of a small basket for $6 (34 golf balls) or a large basket $10 (68 golf balls).   In the past, we offered only one size option and golfers would purchase a token from the golf shop that would be inserted in the ball dispenser to receive range balls.  Now, golfers will be receiving a PIN code that will be entered into a key pad located on the machine, which in turn, will dispense the golf balls.  Tokens will no longer be accepted!  Additionally, the PIN code that golfers receives will only be good for the day of purchase!
If you are a die-hard when it comes to practicing your game, consider purchasing a debt key. This key works like a debt card. You will purchase the key for $5.00. Once purchased, there is no need to go to the golf shop. When the debit key has been depleted, you can re-purchase more range balls on that same key. 
With this debit key system, we will be able to better monitor who purchases and utilizes the debit keys.  One great feature about this is if you happen to lose or misplace your key, we can replace it!  Below you can see the various options you have with purchasing the debit key.  This information is based on LARGE BASKETS of range balls.
| | | |
| --- | --- | --- |
| Purchase Price | Quantity | Savings |
| $40.00 | 340 Balls (5 Baskets) | 5 baskets for the price of 4 |
| $60.00 | 544 Balls (8 Baskets) | 8 baskets for the price of 6 |
| $90.00 | 816 Balls (12 Baskets) | 12 baskets for the price of 9 |
| $120.00 | 1156 Balls (17 Baskets) | 17 baskets for the price of 12 |